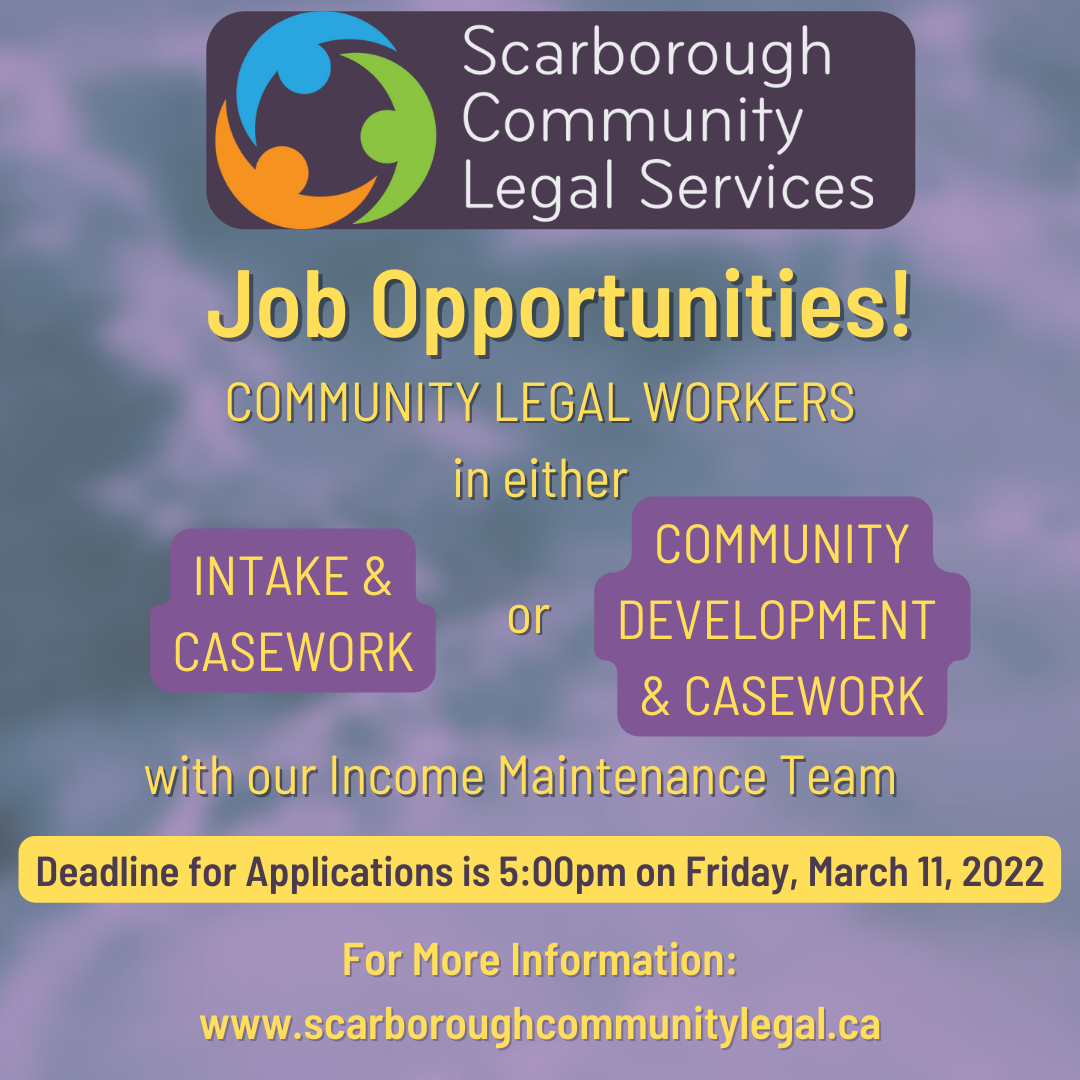 Scarborough Community Legal Services is proud to announce  job postings for positions of:
Community Legal Worker - Intake and Casework
Community Legal Worker - Community Development and Casework
...with our Income Maintenance Team!
For Full Position details, please review the job ads attached to this post.
Terms of Employment
This is a permanent full-time position and is part of OPSEU's bargaining
unit. The salary range is $62,000 - $66,500. The compensation package
includes acomprehensive health and dental benefits package and
membership in DBPlus CAAT pension plan.
How to Apply
The deadline for applications is 5:00pm on Friday, March 11, 2022.
All applicants are asked to submit a cover letter, resume, and the contact info for two professional references to Brad Evoy by email at evoyb@lao.on.ca using the subject line "CLW Community Development and Caseworker Position" only, or by regular mail to:
Attn: Hiring Committee
Scarborough Community Legal Services
695 Markham Road, Suite 9
Scarborough, ON M1H 2A5
We thank all applicants for their interest however only those selected for an interview will be contacted.
SCLS welcomes applications from diverse individuals who self-identify on the basis of any of the protected grounds under the Human Rights Code. Lived experience and intersectional identities are merit factors for hiring for this position.
We are committed to full compliance with the Human Rights Code, the Accessibility For Ontarians WithDisabilities Act, the Occupational Health and Safety Act, and all other applicable legislation. We will provide accommodation during the hiring process upon request. Information received relating to accommodation measures will be addressed confidentially.