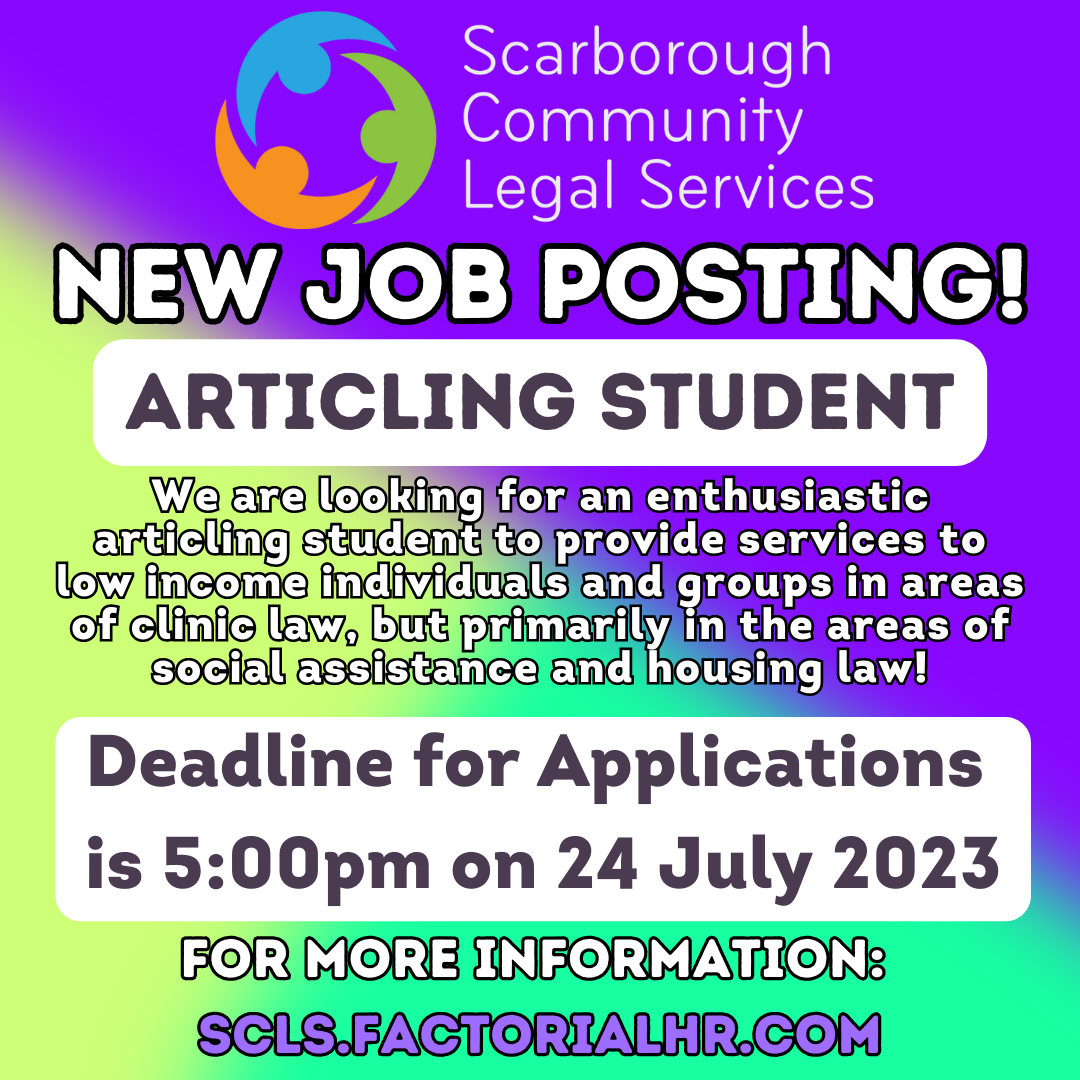 We are looking for an enthusiastic articling student to provide services to low income individuals and groups in areas of clinic law, but primarily in the areas of social assistance and housing law! See the full job description and apply at: https://scls.factorialhr.com/#jobs 
How to Apply
All applicants are asked to submit:
Your cover letter;
Your resume;
Your law school transcripts (web-based unofficial transcripts are
acceptable); and,
Contact information for two references.
through the FactorialHR web portal. 
The deadline for applications is Monday, July 24, 2023.
Interviews will be held virtually on July 26 or 28, 2023.
Your cover letter should outline any experience you have working with low income and diverse communities, experience with poverty law issues, relevant employment and academic experiences, and a description of your specific interest in completing articles at SCLS.
Additional Information
We thank all applicants for their interest however only those selected for an interview will be contacted.
SCLS welcomes applications from diverse individuals who self-identify on the basis of any of the protected grounds under the Human Rights Code. Lived experience and intersectional identities are merit factors for hiring for this position. We are committed to full compliance with the Human Rights Code, the Accessibility For Ontarians With Disabilities Act, the Occupational Health and Safety Act, and all other applicable legislation. We will provide accommodation during the hiring process upon request. Information received relating to accommodation measures will be addressed confidentially.
In recognition of the time and labour of preparing for and attending an interview, SCLS will financially compensate interviewees at a rate of $40 per interview (expected time – one hour). If the candidate is asked to prepare a presentation or assignment during the hiring process, SCLS will financially compensate the candidate for that work at a rate of $40 per hour, based on the time the hiring committee believes the task should reasonably take to complete.
We encourage candidates to learn more about the land on which we live and the nations who have been the stewards of this place since time immemorial, including the Mississaugas of the Credit First Nation and the Chippewa, the Wendat, and the Haudenosaunee Confederacy. Please see scarboroughcommunitylegal.ca/thisland for more from which to learn.