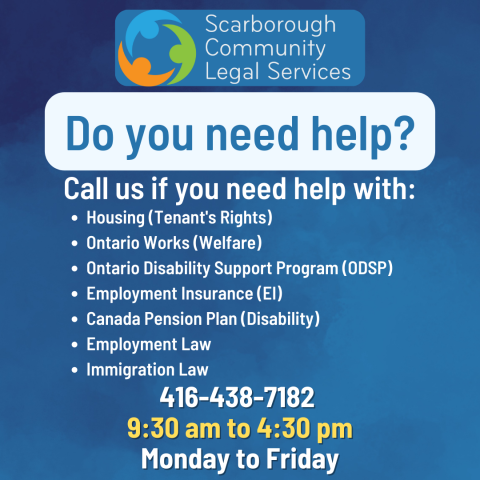 Legal Advice and Representation
If you have a legal problem or question, call us at 416-438-7182 between 9:30 am and 4:00 pm, Monday to Friday.
After getting information from you about your problem, our staff may give you telephone advice on your legal rights and how you may be able to solve it, or we may set up an appointment if necessary. We may represent you at appeal tribunals or court, or we may provide you with the tools and guidance to represent yourself. We provide legal services in key areas where low-income people need specialized help.
Housing (Tenant's Rights)
Ontario Works (Welfare)
Ontario Disability Support Program (ODSP)
Employment Insurance (EI)
Canada Pension Plan (Disability)
Employment Law
Immigration Law
 To access legal help regarding family law issues, call 416-696-2992.