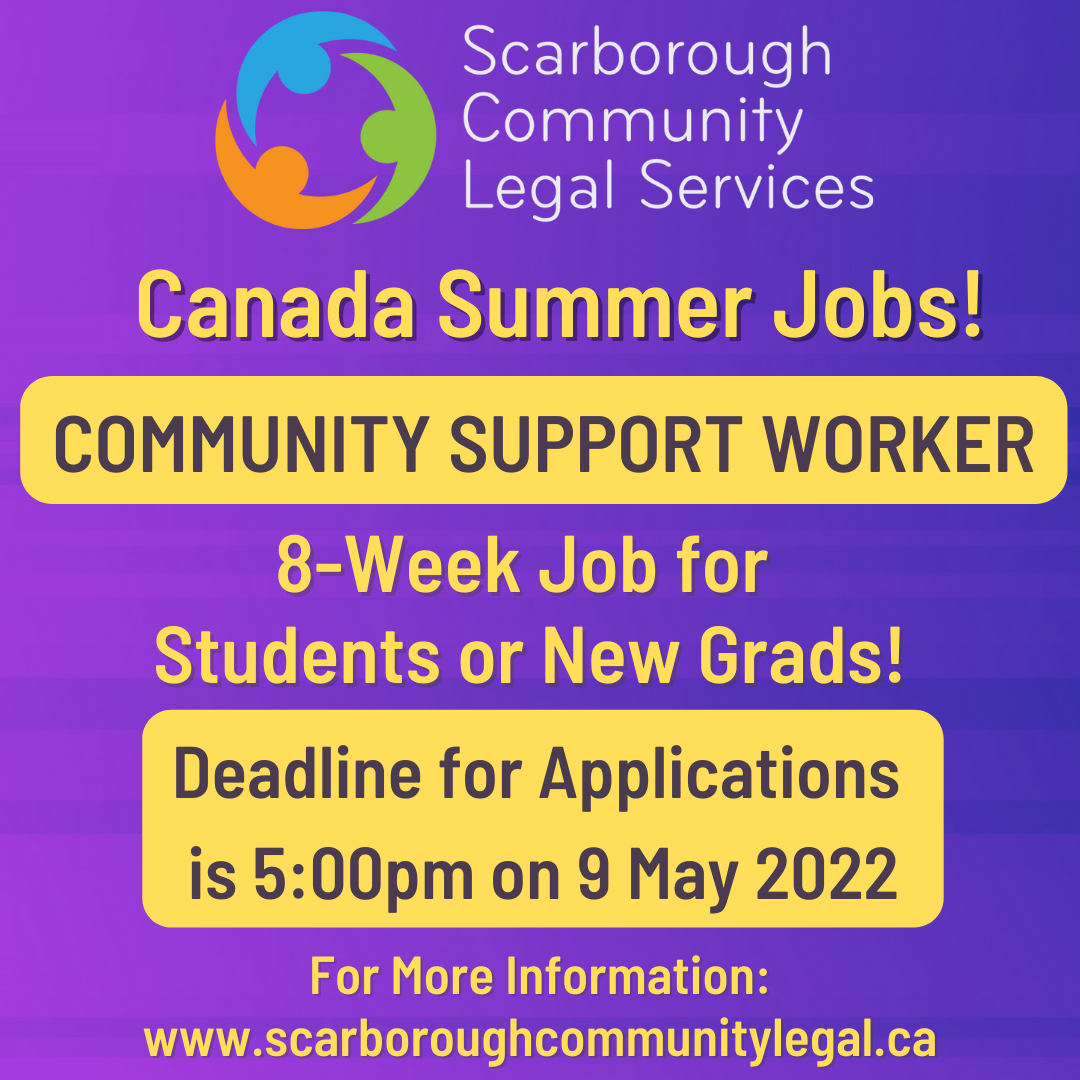 Scarborough Community Legal Services is proud to announce our Canada Summer Jobs job posting for positions of:
Summer Community Support Worker
For Full Position details, please review the job ads attached to this post.
Application Deadline: May 9, 2022 at 5:00 PM.
Terms of Employment
Summer Contract Position: 8 weeks
This is a full time position (35 hours per week) for a period of eight weeks
and is expected to begin June 1, 2022. The rate of pay is $15 per hour plus
4% vacation pay in lieu of vacation leave.
This position is funded by the federal government's Canada Summer
Jobs Program. As a requirement of the funding agreement,
applicants must be between 15 and 30 years of age at the start of
employment; be a Canadian Citizen, permanent resident, or person
on whom refugee protection has been conferred under the
Immigration and Refugee Protection Act; and be legally entitled to
work according to Ontario's legislation and regulations.
International students are not eligible. Recent immigrants are eligible
if they are Canadian Citizens or permanent residents.
How to Apply
All applicants are asked to submit a cover letter, resume, and contact information for two professional references by email to evoyb@lao.on.ca. Please use the subject line "Community Support Worker Application" when submitting your application by email.
The deadline for applications is May 9, 2022 at 5:00 PM.
We thank all applicants for their interest however only those selected for an interview will be contacted.
SCLS welcomes applications from diverse individuals who self-identify on the basis of any of the protected grounds under the Human Rights Code. We are committed to full compliance with the Human Rights Code, the Accessibility For Ontarians With Disabilities Act, the Occupational Health and Safety Act, and all other applicable legislation. We will provide accommodation during the hiring process upon request. Information received relating to accommodation measures will be addressed confidentially.